Does a tooth implant hurt is one of the first questions people considering dental implants ask. Many people feel anxious at the thought of oral surgery (which is understandable), but in all truth, the procedure is not as bad as most people think. Sure, there will be some discomfort, but do dental implants actually hurt? 
Many people are unsure about getting implants because they fear dental implant pain. It's important to remember that modern dentistry should never be painful, and there are ways to manage any anxiety you may have leading up to any dental procedure. 
Dental implant placement is classed as minor surgery and is carried out under local anaesthesia, so you shouldn't feel a thing. Nervous or anxious patients can also request dental sedation to help them relax during the surgery. Although the procedure may feel a little uncomfortable, dental implants come with many advantages that help prevent further dental problems and discomfort.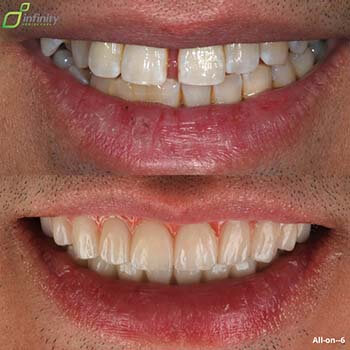 Does a tooth implant hurt? 
The short answer is you should feel no pain, at least not initially. Let's look at how we place dental implants and discuss the sensations you may experience during and after the treatment. 
What's involved in the dental implant journey?
Having attended an initial consultation and been assessed as fit and able to undergo surgery without any complications, our team starts planning your tooth implant journey.
The good thing about getting dental implants is that most planning is carried out before a patient is scheduled for surgery. Thanks to modern technologies like CBCT scans and 3D computer planning, surgery is faster, more accurate and more comfortable for patients. So much so that a straightforward single dental implant can be completed in around 20 minutes.
Because the surgery is minor, patients only require local anaesthesia. However, placing the implants will need to be done in several stages to avoid overwhelming your mouth's soft tissues. 
The first stage is to drill a small hole in the jawbone to accommodate the titanium implant. This small screw-like post supports a replacement tooth (dental crown) and acts as an artificial tooth root.
Once the implant has integrated with the surrounding bone and healed fully, patients will be called back to have the connecting post (abutment fitted). In some cases, the abutment is placed during the first surgery. Depending on a patient's ability to heal, tooth implant roots can take anywhere from six weeks to six months to integrate. This natural process can't be rushed, so the implant dentist will plan your procedures around your healing. Once the abutment has been placed, all that's left to do is fit the dental crown.
Our technicians work from a detailed digital impression mould in our on-site lab to craft natural-looking crowns that perfectly fit your mouth and complement your facial structures. Carefully matched to the shade of the surrounding teeth, they blend seamlessly into the smile. 
So does a tooth implant hurt during surgery?
Patients shouldn't feel any pain during the surgery since their mouths will be numbed with an anaesthetic. They may also be sedated to make them more comfortable while still being able to communicate with those around them. 
However, once the effects of the anaesthesia wear off, patients are likely to feel some discomfort as the mouth and jaw heal around the dental implants. Depending on the complexity of your treatment and the number of implants received, patients could experience pain and discomfort for up to ten days following surgery. However, any swelling should subside within three to five days. There are ways to manage dental implant pain, which we'll discuss below. After 14 days, any pain should have disappeared. However, you will need to be careful with sticky or chewy foods. 
How to manage dental implant pain? 
Ice or a cold compress is ideal for managing pain and swelling post dental implant surgery and can be held against the cheek on sensitive areas. You can even use a pack of frozen peas wrapped in a tea towel if you don't have an ice pack or ice to hand.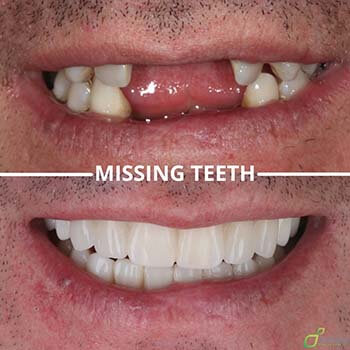 Rinse your mouth 
The day after implant surgery, our dentists advise patients to rinse their mouths with salt water two or three times a day. Dissolve a teaspoon of salt in tepid water, which acts as an anti-bacterial mouth wash. It might sting initially, but it will help alleviate dental implant pain and disinfect the mouth, protecting against lingering bacteria. Swill the solution around gently in the mouth to lessen stinging. 
Soft and cold foods 
To ensure more comfortable eating, stick to soft cold foods for the first day or so. It's a perfect excuse to indulge yourself with ice cream but take care to choose smooth ice cream minus any chocolate chips or chewy fudge pieces that could get stuck in the implant site. Try selecting drinks and food rich in vitamins and nutrients to aid healing and keep the immune system in optimum condition. Non-acidic smoothies and soups are ideal and offer a proactive way to fight bacteria and infection to avoid compromising your treatment. 
After dental implant placement, some discomfort is only to be expected in the recovery phase and can be eased with over the counter medication such as Ibuprofen. People recover differently, but on the whole, it should be relatively pain-free. In the unusual event you feel severe pain, contact your dentist immediately. 
Hopefully, this article has answered your question, does a tooth implant hurt? If you're worried about any symptoms, unsure if what you're feeling is normal, or generally want some guidance, don't hesitate to contact your implant dentist. Here at Infinity Dental Care, we always schedule post-operative check-ups weekly or monthly to ensure you're happy and comfortable. 
Are you considering dental implants?
Why not schedule a FREE dental implants consultation (includes CBCT scan, OPG scan and digital scan valued at $496). We also offer 0% interest finance plans to help you spread the cost of your treatment. Contact the experienced dentists at Infinity Dental Care on (02) 9159 6237  today. 
Disclaimer: Any surgical or invasive procedure carries risks. Before proceeding, you should seek a second opinion from an appropriately qualified health practitioner
References
Better Health.Vic.Gov – Dental Anxiety and Phobia
https://www.betterhealth.vic.gov.au/health/conditionsandtreatments/dental-anxiety-and-phobia
NCBI – Current methods of sedation in dental patients – a systematic review of the literature
https://www.ncbi.nlm.nih.gov/pmc/articles/PMC5005095/
Medical Magazine.in – Dental Implants: Surgery, Advantages and Risks
https://www.medicalmagazine.in/dental-implants-surgery-advantages-risks/
Medical News Today – How to Make and Use a Cold Compress
https://www.medicalnewstoday.com/articles/321950
NCBI – Dietary Strategies to Optimize Wound Healing after Periodontal and Dental Implant Surgery: An Evidence-Based Review
https://www.ncbi.nlm.nih.gov/pmc/articles/PMC3681034/