Dental Care
Subtle changes that can
make a big difference

Dental Veneers can help you to achieve that beautiful, even smile that you have always wanted.  Custom-designed dental veneers are a permanent way of creating a smile you'll love. Dental veneers are crafted from an incredibly fine material, fitting seamlessly over your natural teeth.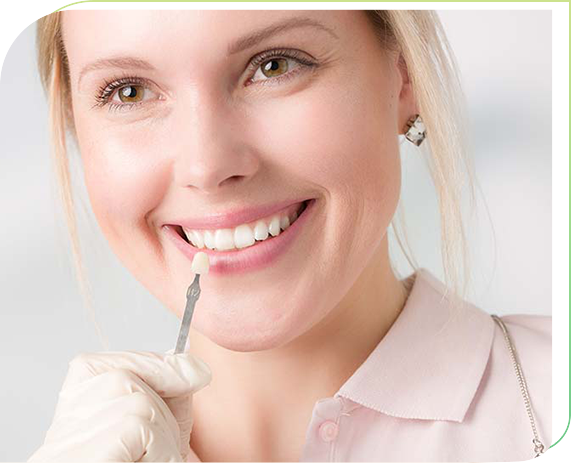 Porcelain Veneers
One of the most popular ways to achieve a beautiful smile at Infinity Dental Care Winston Hills is with dental veneers.
Veneers can be used to correct a multitude of imperfections including gaps, chips, stains, or misshapen teeth helping you regain confidence in your beautiful smile.
Porcelain veneers are thin, custom-made shells finely crafted in our in-house laboratory and bonded to the front of a tooth.
A small amount of tooth enamel is removed so that when your veneers are placed, your teeth still look completely natural. Once crafted your veneers are checked for fit and comfort and any required adjustments are made before the veneers are permanently bonded to your teeth.
When placed, your veneers look like your natural surrounding teeth. Although extremely fine, porcelain veneers are quite strong, durable and stain resistant.
Composite Veneers
Composite veneers are made using a special high-quality resin material that is coloured to the shade of your natural tooth enamel.
This type of dental veneer is usually used to fix tooth imperfections like small chips or cracks in the teeth or as a conservative alternative to porcelain veneers. Composite veneers have the advantage and convenience of being completed in a single appointment visit.
The composite material is placed in layers and hardened by a special light. It is then sculpted to the perfect shape to blend seamlessly with your surrounding natural teeth.
With correct care and regular check-up appointments at Infinity Dental Care Winston Hills, your porcelain and composite veneers will enable you to enjoy a beautiful smile for many years.
Minimal Preparation Veneers
Minimal preparation veneer procedures – such as for Lumineers, Durathin veneers and Vivaneeers – may also require tooth modifications, depending on the condition and position of the teeth being treated. Such modifications are minimal, affecting only the enamel layer, with no penetration into the dentin (layer of tooth substance beneath the enamel).
Minimal prep dental veneers with Dr Jack generally require very little if any drilling or anesthetic, helping to preserve the natural tooth structure including the strength of your own teeth.  You may require some tooth modifications, depending on the condition and position of your teeth, however, such modifications are minimal.
Dr Jack will advise you on the best type of dental veneers suitable for you, as well as discuss what you can expect from the process.