Orthopedic and Orthodontics


Dental Care
How to set things straight

Like all areas of health care dentistry too has its specialties. Orthodontics is one specialist discipline of dentistry and is focused on the diagnoses, prevention and treatment of problems with the alignment of the teeth and jaws.
Through the design and use of corrective appliances – such as braces, aligners, retainers, plates, headgear and functional appliances – orthodontic treatment is prescribed to bring the teeth and jaws into optimal alignment.
Some of the problems orthodontics correct include; crowded and protruding teeth, under, deep and crossbites, impacted teeth, and closed spaces between teeth, as well as many others.
Orthodontic treatment to correct bite and jaw problems also helps with your overall oral health. Straight teeth are easier to clean, helping you maintain good oral hygiene, plus a straight smile can help you feel more confident.
The team at Infinity Dental Care Winston Hills are highly experienced in the field of orthodontics and can diagnose and develop a treatment solution plan for you or your child. For unusual or highly complex cases you may be referred to a specialist orthodontist who was worked with on a regular consultative basis. This may be for some or all of your orthodontic treatments to ensure you receive only the highest standard of care and ideal result.
To know more about which treatment is right for you, call and speak to our friendly team at (02) 9159 6237 or visit our practice in Winston Hills Mall, at 180 Caroline Chisholm Drive, Winston Hills NSW 2153.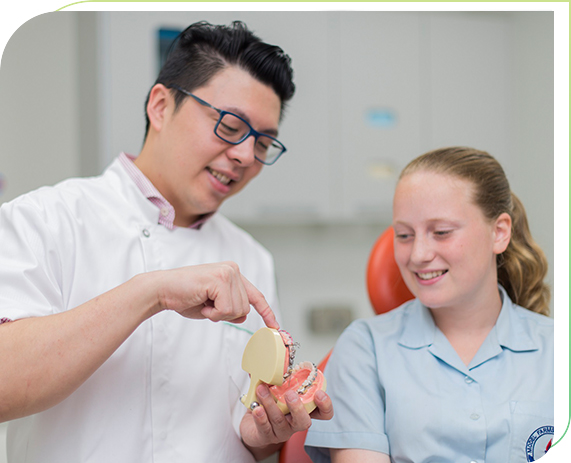 our services
Complete your dental care

in one roof