Posted on
February 17, 2022
Whether you need one tooth replaced with a single dental implant or are looking for a solution for multiple teeth, the cost of dental implants is something that many patients are concerned about.

Dental implants can seem like they're more expensive than options like dentures – and often the upfront cost is greater – but when you consider the lifespan of dental implants and the lifestyle benefits of having a realistic tooth replacement, the cost of dental implants often ends up seeming more affordable.
How much do dental implants cost? The actual price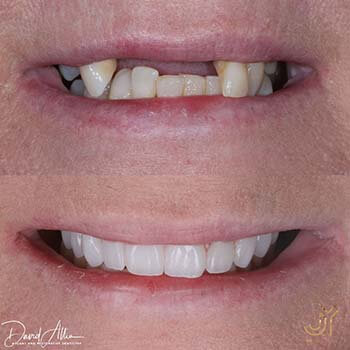 It can be difficult to give reliable pricing indications online because whether you are looking to replace multiple teeth with dental implants, or a single tooth with one dental implant, the cost of each procedure can still vary greatly between patients.

As a very broad estimate, according to Colgate the cost of dental implants is generally several thousand dollars. Finder narrows that down further to saying a single dental implant may be anywhere from $2000 – $7000 and All on Four dental implants are $17,000 – $30,000.

Don't immediately assume yours will be the most expensive price range. There are so many factors that come into price quotes that it is virtually impossible to know even approximately how much yours will cost without having had a consultation with a dental professional.
How much do dental implants cost? Medicare and private health
Medicare will not usually cover dental implants, though Finder does outline two exceptions for medical conditions and concession holders and explains private health considerations.

Patients with private health insurance are usually able to access coverage for dental implants when they have major dental included on their plan. This includes people who hold extras only coverage. A single dental implant or multiple dental implants will often come under "periodontics" though it is always best to speak directly with your health fund to confirm and upgrade your plan ahead of treatment if necessary. If you are taking out private health cover specifically to get dental implants, you may be subject to a twelve-month waiting period.

Even with top-level private health insurance, patients should still expect some out-of-pocket expenses and will need to discuss those directly with their health fund prior to commencing dental implant treatment.
How much do dental implants cost? Payment plan options
Whether you have no insurance or are facing significant out of pocket expenses, most dentists will offer some kind of payment plan, either in-house or via a third party.

At Infinity Dental Care, we work with National Dental Plan, a dental finance provider that offers up to $12,000 for dental services and treatments. This means that patients who are unable to pay for dental implants upfront, or who would prefer to split the cost of dental implants over instalments, are able to do so under flexible, interest-free terms.

Most patients do need to pay some out-of-pocket expenses, usually about 20%, but our team can talk you through that when you're discussing your treatment with us.
How much do dental implants cost? Is it cheaper overseas?
When you are having dental implant treatment, it is generally done in stages. This is because the dental implant itself – the part that the false tooth actually sits on – should fuse with the bone in your jaw and gums before the next stage commences.

Sometimes you are required to have teeth removed, may require bone grafts or other surgical and dental treatments to ensure your mouth is ready for dental implants.

While Australian dental and medical staff will certainly provide whatever assistance they can in case of emergency, it's often not a good idea to have multi-stage major dental surgery like dental implants done abroad. The cheaper cost of dental implants can be quickly offset by rushed procedures – fitting what can take months into a few weeks or two long trips – or complications.
How much do dental implants cost? Are there alternatives?
Dental implants are not the only option for people who need to replace missing teeth.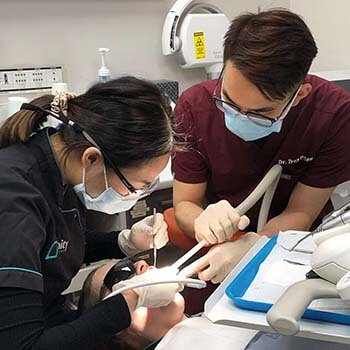 A full or partial set of dentures may be considered as an alternative to dental implants.

Dentures and false teeth used to have a bad reputation for looking fake, causing speech issues, and needing maintenance. You still can't wear them 24/7 and there are some food limitations with dentures that you don't have when you choose dental implants, but technology has come a long way.

Dentures look far more lifelike than ever and are more comfortable to wear than they used to be.

It's important to note that while they can be a lower upfront cost than dental implants, they don't always last as long and are easier to lose, break or damage, so sometimes choosing dentures over dental implants, costs the same or more over the long run.
How much do dental implants cost? Do they last forever?
This is another harder to answer question but the dental implant itself is usually fairly durable – often lasting a lifetime – though the crown (false tooth) and fixtures may need to be replaced in time.

Healthline published results from a US study that found that 90-95% of patients with one or more dental implants were still experiencing success with their dental implant after ten years. Anecdotally, some patients have reported getting decades out of their dental implants but individual results will vary.

Everybody should be getting regular dental check-ups anyway, but it's even more important that people with false teeth like dental implants visit their dentist every six months. Often by the time you notice something is wrong, an issue will be well advanced, but a check-up will easily be able to ensure your dental implant remains healthy and intact.

The only way to really know 'how much do dental implants cost?' is to have an obligation free consultation with an experienced oral surgeon like Dr Jack to discuss your personal options and situation. Get in touch on (02) 9159 6237 for your appointment today. 
Any surgical or invasive procedure carries risks. Before proceeding, you should seek a second opinion from an appropriately qualified health practitioner.

References
Colgate Dental Implant Costs Explained
https://www.colgate.com.au/oral-health/implants/dental-implants-cost-explained-0415

Finder Dental Implants Cost Explained: How to Check Your Health Cover
https://www.finder.com.au/dental-implants

Infinity Dental Care National Dental Plan
https://infinitydentalcare.com.au/patient-information/national-dental-plan-in-winston-hills/#

Infinity Dental Care Dental Implants in Thailand: Why It May Not Be Such a Good Idea
https://infinitydentalcare.com.au/dental-implants-thailand/

Healthline How Long Do Dental Implants Last? What impacts duration?
https://www.healthline.com/health/dental-and-oral-health/how-long-do-dental-implants-last#how-long-do-tooth-implants-last