Posted on
January 31, 2021
How do you know if you're doing a good enough job of brushing? Well one way is to ask your dentist at your twice-annual check ups. And certainly, if the professional feedback is that you need to improve your oral care, an electric toothbrush could help you achieve it. After requests from our patients we've put together an article to review the pros and cons of the electric toothbrush, and if it really can help you improve your oral hygiene.
Most of us probably learnt to clean our teeth the good, old fashioned way: using a manual toothbrush. But if you haven't got your technique correct in terms of how you brush and how you angle the brush against the gum line, you may not be removing as much plaque as you need to. 
Using an electric brush may be an alternative to ensure that you remove enough plaque before it turns to tartar and starts to cause dental decay. But is an electric toothbrush really better than a manual toothbrush? Some of the pros and cons of the electric toothbrush may surprise you.
The Pros And Cons Of Electric Toothbrush
Here Are The Pros
Let Technology Do The Hard Work
One of the biggest pros is electric toothbrushes do the brushing work for you and all you really need to do is hold the brush against your teeth. Rotating heads take care of plaque removal so you don't really need to worry about how effective your technique is. An electric brush makes it easy for you.
Electric Toothbrushes Handle Arthritic Challenges
If you have a problem with your hands such as arthritis or any painful condition that interferes with your ability to hold or use a toothbrush correctly, electric brushes can really compensate. 
Kids Love Them
Kids who don't want to brush their teeth (or moms who worry that their kids aren't brushing well enough) really can benefit from electric toothbrushes. As long as the toothbrush is moved around in the mouth for two minutes you can rest assured that plaque is being removed from your child's teeth.
Electric toothbrushes are also quite interesting – especially for modern kids who enjoy using technology. If you've been struggling to get your child to brush well or often enough, an electric toothbrush might be worth a try.
Some experts say it's better for young children to start off brushing with a manual brush, and then to upgrade to an electric toothbrush when they are a little older. Many electric toothbrushes have in-built controls that help to regulate how long kids brush for, which lays the foundation for good dental hygiene practices later in life. 
They Apply The Right Degree Of Pressure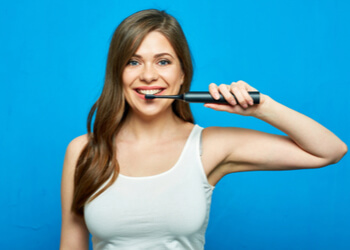 Brushing correctly requires you to find the middle ground between brushing too hard and hard enough to ensure that plaque is removed from the gum line and between the teeth.
Brushing too hard can cause gums to recede or even bleed while not brushing hard enough just doesn't do the job right. Electric toothbrushes apply the right amount of pressure to keep your teeth clean. 
They Work Really Well For People Who Wear Orthodontics
Patients who wear orthodontic braces need to take special care that they are cleaning their teeth well enough to avoid dental decay. Using an electric toothbrush can take some of this worry away from concerned parents.
And here are some of the cons of electric toothbrushes…
You Still Need To Change The Head Frequently
Just as you need to change your manual toothbrush for a new one every three months, you also need to swap the head of your electric brush on a similar basis. If you wear orthodontics you'll need to change it more frequently: every 6 to 8 months.
In the event that you find yourself changing the head or your manual toothbrush on a more frequent basis, it could be a sign that you are brushing too hard.
You Still Need To Floss And Brush Twice A Day
Swapping your manual toothbrush for something electric won't eliminate a brushing session or remove the need to floss. You will still have to brush your pearly whites twice a day and floss them too.
You Still Need To Clean Your Tongue
Whether you use an electric or manual toothbrush, you still need to brush your tongue twice a day too. The tongue can harbour plenty of bacteria that cause bad breath and it shouldn't be neglected in your dental hygiene routine. 
Lots of electric toothbrushes have a gum cleaning setting, which is advisable to use when you want to clean your tongue. 
It Won't Remove Stains Or Discolouration
Using an electric brush won't do anything to change the colour of your teeth or remove stains. If your teeth have gone yellow because of discolouration or have stains on them, you'll still need professional teeth whitening treatments to brighten them up.
It's No Substitute For Visiting Your Dentist
Even in the event that your electric brush does a better job of removing plaque than a manual toothbrush, it's still no substitute for visiting your dentist twice a year. No toothbrush will remove all plaque from your teeth and accumulated plaque develops into tartar, which only your dentist can remove. 
Electric Toothbrushes Cost More
Buying an electric brush is a bigger investment than using a manual toothbrush, and you can expect to pay more for the convenience of technology. Even though you won't need to replace the whole brush and only the heads on a regular basis, buying the electric toothbrush is more expensive.
If you'd like to discuss the pros and cons of an electric toothbrush in greater detail, it's best to speak to a dental professional before committing. Please contact us for an appointment and we can evaluate your oral hygiene: (02) 9159 6237.