As a form of tooth replacement, dental implants are a welcome alternative to bridges and dentures since they look, feel, and function just like real teeth. You've probably heard that the dental implant procedure is a long process and often that's no exaggeration. 
But how long does a dental implant procedure take to complete? 
How long are we talking realistically?
Unless you're eligible for All-On-4 dental implants, commonly referred to as 'same-day implants' the dental implant procedure can take anywhere from 3 to 9 months from start to finish and even longer in some cases.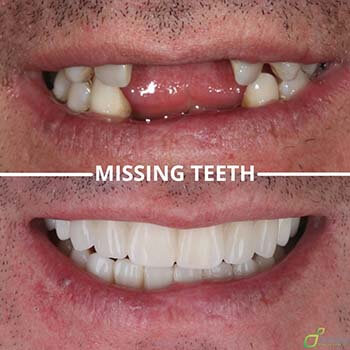 Now, we know this is a rather vague answer but the truth is that every patient and every case is unique. The reason dental implants take so long is that multiple procedures are involved in the treatment and a lot of this time includes healing in between the various stages. 
This time frame could be lengthened by an additional 3 or 4 months if a patient requires additional treatments before receiving dental implants. You see, implants are like natural teeth in that they rely on the bone for support and their success is heavily dependent on them being placed into the healthy, dense bone.
If a patient has been missing teeth for some while, bone loss will have occurred and consequently, their bone may be insufficient to give the implant the support it needs. As a result, the dentist will recommend a bone graft to augment the bone in the jaw to provide a solid base into which the dental implants can be placed. This is a surgical procedure and means healing time will have to be added to the overall duration of the dental implant procedure. 
Also, if a patient is receiving implants in their upper jaw there is a chance that they may require a surgery known as a sinus lift which as its name suggests involves raising the floor of the sinus chamber so that it doesn't get punctured when dental implants are placed. Again, time for healing will need to be factored into the equation. 
Our dentist will use x-rays and 3-D scans to evaluate the condition and health of the jawbone to determine what needs to be done to prepare the mouth for dental implants. 
Placing the implants
Once a patient is ready for dental implant surgery, the next step is to place the titanium implant posts into the sockets of the missing teeth. Depending on the method of surgery, this can take from around 20 minutes to an hour per implant. Usually, the procedure is carried out chairside under local anaesthesia and dental sedation can also be provided to help a patient relax and feel more comfortable. 
Once the dental implants have been placed into the jawbone, the next part of the dental implant procedure is what we call a recovery or healing phase. 
You may experience some swelling and bruising after surgery and may feel some slight discomfort once the effects of the anaesthetic wear off. However, this can usually be relieved with painkillers such as Ibuprofen and any discomfort should subside within a day or two. You will also need to switch to a soft food diet for a few days but don't worry, post-surgical instructions will be given to you which you must follow to the tee.
Patients need to wait for a natural process known as osseointegration to take place. This is the part where the surrounding bone and soft tissues grow around the implant to keep it secure and make it a permanent fixture in the mouth. It usually takes between 4 to 6 months but every patient is different. Once the implant has stabilised and the posts have fully integrated with the bone, they take on the role of artificial tooth roots and you're ready for the next stage of the dental implant procedure – connecting the abutment.
Hopefully, by now you're starting to understand why it's impossible to give an exact answer to the question "how long does a dental implant procedure take?" 
Understanding abutments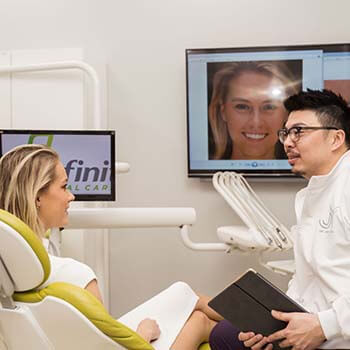 Healing abutments also called caps or healing cuffs are used to help the soft tissues heal around the implant site. Once the gums have healed, the dentist will place a final abutment that enables the prosthesis (artificial tooth) to be connected to the implant. Sometimes abutments are placed during implant surgery and other times they are placed during a short surgery following implant placement. Either way, they're an important part of the dental implant procedure.
To place the abutment in a second surgery:
The dentist or oral surgeon will make a small incision in the gums to expose the implant

The abutment is attached to the implant

The gum tissue is sutured around but not over the abutment
It typically takes between 4 and 6 weeks for the gums to heal around the abutment.. You will also be given instructions for cleaning around the abutment to promote healing and prevent infection. 
Making your prosthesis
Once your gums have healed around the abutment it's time to take impressions of the mouth to create a custom crown. This is usually made from porcelain and carefully colour matched to the surrounding teeth to ensure it blends seamlessly into the smile. You may be fitted with a temporary crown while your permanent crown is being made.
Once the crown is ready, you will be called back into the dental clinic to have your permanent crown fitted. The crown may be screwed into the abutment or dental cement may be used to attach it. The dentist will help you make the right call. 
So, there you have it …. rather than an exact answer, this is more of an explanation to the question "how long does a dental implant take?"
If you're considering dental implants to replace a missing tooth or teeth then why not come and talk to the experienced team at Infinity dental about your best implant options. We provide All-on-4 dental implants as well computer-guided flapless dental implant surgery and CEREC crowns which makes for a quicker, more accurate and comfortable dental implant procedure. 
Give us a call today on (02) 9159 6237 or use our online booking service. we also provide interest-free finance to help you spread your costs.
Disclaimer: Any surgical or invasive procedure carries risks. Before proceeding, you should seek a second opinion from an appropriately qualified health practitioner