Posted on
December 17, 2021
Keeping your water flosser clean is key to keeping it working well. Mineral deposits, mould and other debris can accumulate in water flossers, slowing them down and affecting their performance. Ideally, you should give your water flosser a thorough clean once a month, taking it apart and ensuring that each component is clean, before putting it back together again. Today we will show you how to clean water flosser in a few easy steps.
How To Clean Water Flosser: At A Glance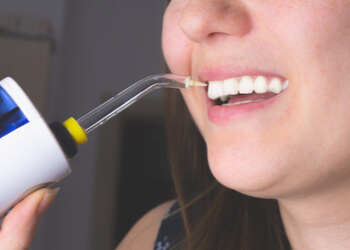 Whenever you clean your water flosser, you can expect to
Clean the outside of your Waterpik (you can do this more than once a month)

Clean the water reservoir

Clean the internal components of the Waterpik

Clean the handle (if you have a countertop model)

Clean the tip of your water flosser
How To Clean Water Flosser: The Step-By-Step Method
Cleaning The Outside Of The Waterpik
Cleaning the outside of your Waterpik is quick and easy enough to do more than once a month. All you need for this is a mild and non-abrasive cleaner and a soft cloth.
Cleaning The Water Reservoir
Read your user manual to find out how to remove the water reservoir from the unit.
If you have a countertop model, you will need to remove the valve as well. You can do this by pushing on the bottom of the valve. Hold it under running water for 30 to 45 seconds.
You can place your water reservoir inside your dishwasher to clean it and then leave it to air dry. You can also wash the water reservoir with warm soapy water.
Don't forget to put the valve back in if you removed it.
Cleaning The Internal Components
Mix one to two teaspoons of white vinegar in some water, and then run it through your Waterpik until the water reservoir is empty. Then rinse it with some clean water.
Clean The Handle (Countertop Models Only)
Use the eject button to remove the tip from your Waterpik.
Soak your Waterpik handle in a solution made up of two parts water to one part white vinegar. Allow it to sit in the solution for five to seven minutes.
Cleaning The Flosser Tip
Soak your Waterpik tip in a solution made up of two parts water to one part white vinegar or hydrogen peroxide. Allow the Waterpik tip to sit in this solution for five minutes, before removing it and rinsing it under cold water.
Replacing Your Waterpik Tip
The tips of water flossers should be replaced every three to six months. You might notice the water pressure changing over time, making your Waterpik a little harder to use. This is because mineral deposits may collect in the tip, necessitating a replacement.
The Importance Of Flossing For Your Dental Health
Flossing is as important as brushing to maintain a high standard of oral health but lots of people don't do it, because they battle to use string dental floss. Replacing your string floss with a Waterpik makes it so easy, you won't be inclined to forget.
Your mouth is full of millions of bacteria, and the role of brushing and flossing is to keep the bacteria under control. The bacteria come together in a sticky film called plaque that coats the surfaces of your mouth. Brushing first thing in the morning removes the plaque that has collected on your teeth and tongue overnight. Brushing before bed removes the plaque that has collected on your teeth and tongue during the course of the day. Flossing needs to happen to make sure that the plaque is also removed from below your gum line and from between your teeth. 
Some of the benefits of using a Waterpik for flossing include:
A Waterpik Is Gentler On The Gums
Some people have sensitive gums that bleed easily when they use string floss. Because Waterpiks make use of water pressure, they are much gentler on gums, but still do an effective job at removing plaque and debris.
A Waterpik Is Easier To Use
Flossing requires you to master the technique of using string floss, and some people are better than others.
Some patients may have conditions that affect the mobility of their hands, making flossing uncomfortable or painful.
When you use a Waterpik instead of dental floss, you just need to hold the tip of the Waterpik to your mouth, and do not need to use your hands to manoeuvre it around each tooth, as you do with string floss. 
Water Flossers Make Flossing Fun For Kids
Kids are instinctively resistant to self-care, and getting the buy-in from toddlers and young children when it comes to taking care of their teeth can be a real challenge. Using a Waterpik makes flossing fun and takes the hard work out of it for a child. Plus, parents also get peace of mind that plaque removal is being done effectively.
Water Flossers Have Pressure Settings
Water flossers are customisable for your individual needs and come with various technological features that make them fun and easy to use. Built-in timers ensure you always do a thorough job, and a pressure setting allows you to adjust the water pressure as you need to.
How To Clean Water Flosser: Dos And Don'ts
Avoid abrasive cleaning substances that can damage your Waterpik

Never use boiling hot water for cleaning your Waterpik

Make sure you use vinegar or hydrogen peroxide for cleaning as these substances are proven to kill bacteria that the eye can't see

Always rinse your Waterpik thoroughly after each clean

Make sure you replace the tip on a regular basis
For help with how to clean water flosser, or for a check up appointment, please contact us: (02) 9159 6237.