Brushing and flossing twice a day is your best defense against tooth decay but there are a number of patients who don't floss very well, and a number of patients who forget to do it completely. Flossing is important because it allows you to clean parts of your teeth that your toothbrush can't access, such as between your teeth and below your gum line. Flossing well requires you to have a good technique, but using a water flosser can give you a shortcut to effective flossing that keeps your mouth clean. If you haven't used one before this post is for you – today we're going to take a closer look at how to use a water flosser.
Why Flossing Is So Important?
Think about all the tools your dentist uses when inspecting your mouth. This is because there are lots of spaces in your mouth that are difficult to see. Your toothbrush can only get to some of them because of the way they are shaped. Dental floss can fit into the spaces between your teeth to protect you against plaque build up.
Remember that your mouth is full of bacteria and that the purpose of brushing and flossing is to remove plaque and tartar build up on your teeth in order to prevent tooth decay. Tooth decay is the leading cause of tooth loss and it is preventable through twice-daily brushing and flossing and visits to your dentist twice a year.
How Does A Water Flosser Work?
Water flossers are powered, handheld devices that spray jets of water in the direction of your teeth. Using water flossers effectively is so much easier when you understand the dynamics of how they work: they make use of pulsing jets of water to clean the spaces between your teeth and below your gum line, in the shape of a C. This is why they are also colloquially known as oral irrigators or water piks.
Water flossers are available with a range of different tips that serve different uses:
There are tips for cleaning your tongue

There are special tips for cleaning orthodontic braces

Every day tips 

It is also possible for different family members in a household to use the same water flosser hygienically, just using different tips. Convenience is an inbuilt feature of modern water flossers, as the cordless types may even be used while you're in the shower.
What Are The Benefits Of A Water Flosser?
Water piks are gentler on your gums and soft tissue. This is particularly important if you have sensitive gums or are still trying to perfect your flossing technique. Water flossers won't make your gums irritated and bleed like string floss.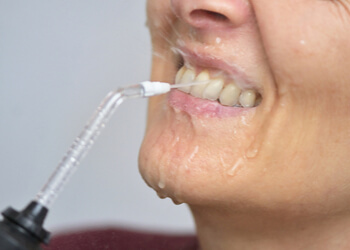 A water flosser is much easier to use if you struggle with mobility in your hands. While you do need to hold a water flosser to the correct angle, you don't need to manipulate it in the same complex way as string floss or put your hands and fingers under the same amount of strain. The pulsing jets of water apply the necessary amount of force to remove plaque and debris from your tooth surfaces.
Water flossers work very well for patients who have restorations such as dental crowns, bridges or dental implants. They are also very effective at cleaning for patients who have infected gums, as they can penetrate below the gum line gently, without causing further irritation.
How To Use Water Flosser For Best Results?
Each brand will have separate instructions to help you use water flossers in the most effective way but generally speaking, oral irrigators are much easier to use than string floss. Remember that your water flosser is going to spray water out of its tip so it's best to do it over the basin as if you were using string, and in front of a mirror so you can see what you are doing, at least at the beginning.
It's your choice whether you brush your teeth before or after using water flossers. The research shows no clear benefit whether flossing is done before or after brushing, as long as both are done properly.
How To Use Water Flosser: Your Step By Step Guide?
Fill the reservoir of your oral irrigator with warm water and place the tip of the water pik in your mouth.
Lean over the basin for convenience and hold the tip at a 45-degree angle to your gum line, as if it were your toothbrush. Start cleaning at one end of your jaw, and systematically clean each tooth surface, one tooth at a time. Don't forget to clean the areas behind your teeth. Once the top jaw has been done, start on one end of your bottom jaw, and move across carefully to the other side.
You should be flossing for around two minutes once you have got used to it. It might take a few attempts at the beginning but the more you use your water pik, the quicker it will get.
Don't Forget To Clean Your Oral Irrigator
You should clean water flossers every one to three months
First, separate the reservoir from the flosser head. Empty and clean the reservoir with warm water and detergent, and leave it to dry. If you prefer you can wash it in your dishwasher.

Clean the inside of the reservoir with a vinegar and water solution, allowing the solution to run through the water piks handle.

Make another solution, either with water and vinegar or water and hydrogen peroxide, to clean the tip with, before giving it a rinse.
For help on how to use water flosser effectively or for other tips to improve your oral hygiene, please get in touch with us for a convenient appointment: (02) 9159 6237.