Posted on
December 15, 2016
If you have missing or broken teeth and find it hard to eat your favourite foods, don't give up.
Dr Jack recently helped Ann eat again with Implant Supported Bridges.
About 2 years ago, Ann she still had 70% of her teeth left and a partial denture… she didn't like it. After visiting another dentist in Sydney Ann decided to have all her teeth removed and full dentures made.  Ann thought this would be the answer to her teeth problems, however it didn't.  Ann's bone resorbed and as a consequence Ann's denture never fit correctly, she was constantly having to have her dentures relined and remodelled.
When Ann first visited Dr Jack she was frustrated, she was tired of her dentures not fitting well. Ann wanted normal looking teeth, she did not like the feel of her plastic dentures. Ann wanted to be able to smile and not feel embarrassed, she didn't want to worry about dentures falling down. Ann wanted to eat what she wanted when she wanted. Most importantly Ann wanted to be free from her denture.
After investigation Dr Jack found a molar tooth had been left behind in Anns gum and this was part of the cause of her denture troubles.  After discussion Dr Jack removed the tooth and made a new set of dentures for Ann.  After 12 months Dr Jack discussed with Ann about making her new teeth rock solid with Implant supported bridges.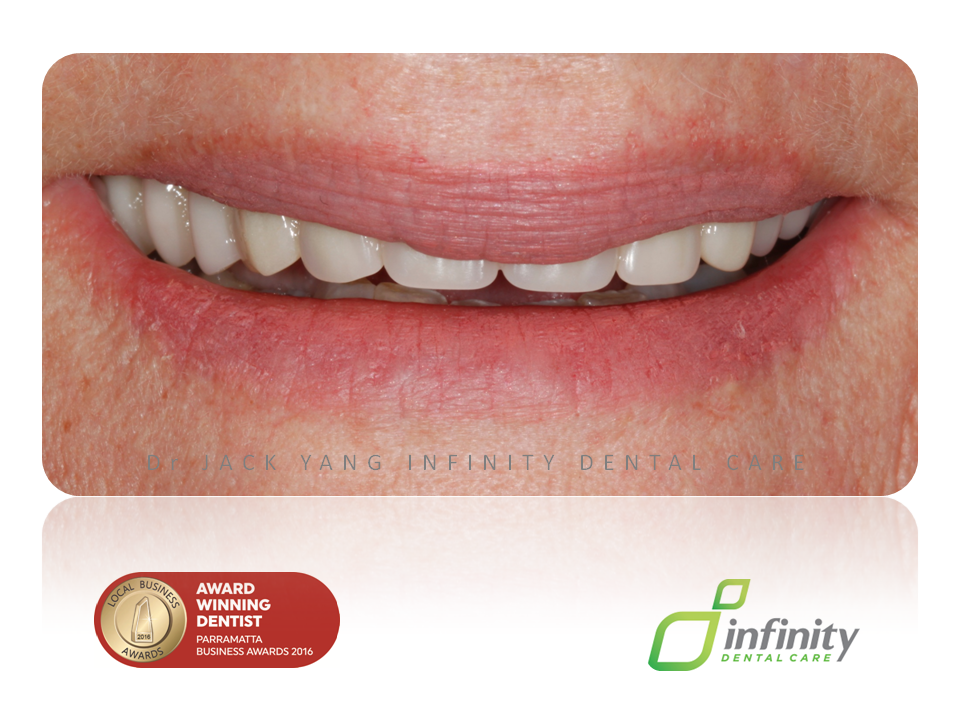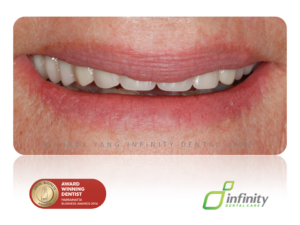 An implant supported bridge is similar to a regular dental bridge, but it is supported by dental implants and not by your natural teeth. In most cases, when an implant supported bridge is used, one implant is placed in the jawbone to replace one or two of your missing teeth. Then crowns are connected to each other to form a bridge.
Learn more about dental implants and how they can help you with a loose or uncomfortable denture or how you can restore your chewing if you have missing or broken down teeth. Schedule an assessment appointment with Dr Jack at Infinity Dental Care Winston Hills call us on (02) 9838 9111 or simply book online here or visit our practice at 180 Caroline Chisholm Drive, Winston Hills NSW 2153.
Any surgical or invasive procedure carries risks. Before proceeding, you should seek a second opinion from an appropriately qualified health practitioner.
Patient Care – Implant Supported Bridges