Posted on
December 16, 2019
Infinity Dental Care is pleased to offer our patients a broad range of teeth straightening options, aimed at straightening crooked teeth and correcting misaligned jaws. Our family-oriented dental practice in Sydney is pleased to offer affordable options for teeth straightening.
Modern orthodontics has evolved tremendously in recent years and now offers patients of all ages the opportunity to straighten their teeth, no matter their age.
Early Treatment For Young Patients
At Infinity Dental Care we minimise tooth extractions in children, as we recognise that their jaws are still growing. We make use of a device called a palatal expander, which we use to increase the size of your child's jaw.
The idea of this treatment is to increase the amount of space available for teeth to emerge. There is a chance that your child will still use braces or a retainer, but by increasing the size of the jaw, the teeth will emerge straighter and they may have a shorter period with braces or aligners.
Different options for teeth straightening
Traditional metal braces
Traditional metal braces still offer excellent alignment and correction. Their design has improved over the years and they are less bulky and more comfortable than they used to be.
Lingual braces
Lingual braces are as effective as traditional metal braces, and also work by applying pressure to your teeth to move them into different positions. Lingual braces are placed on the back of the teeth, making them less noticeable.
Ceramic braces
Ceramic braces are also very effective at straightening crooked teeth and correcting misaligned jaws. Because they are tooth coloured they require meticulous care and dental hygiene, making them better suited to older patients.
Treatment For Older Patients
Adults can also take advantage of the wide range of teeth straightening options available on the market today. Today's orthodontic treatments are focused on rapid results and discreet aesthetics.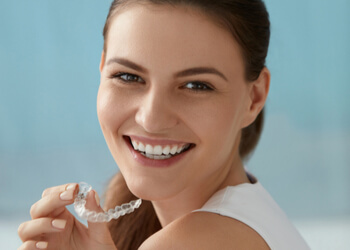 While traditional metal braces have proven effective for straightening teeth, adults don't find them appealing because of their aesthetics. Lingual braces are positioned on the back of your teeth and provide the same degree of teeth straightening as traditional metal braces.
Adult patients can also look forward to shorter treatment times than children.  Children's orthodontics needs to take facial bone development into account whereas adults do not have this concern as their facial bones have finished growing.
It's never too late to have your smile straightened. Straight teeth are not just beneficial in terms of their appearance; they are also easier to keep clean.
Clean teeth are less prone to decay and having straight teeth is an investment in the future of your dental hygiene so it is always worth doing, no matter your age.
Rapid Smiles
Patients who need to straighten their teeth in a very short timeframe may be eligible for Rapid Smiles, which offers results in as little as 10 to 12 weeks of treatment.
A combination of clear brackets on the front of your teeth, with lingual braces placed on the back of your teeth, results in straighter teeth.
Wearing An Aligner
All orthodontic patients need to wear a retainer after their treatment. This is the final step in your treatment and it is done to safeguard your teeth from shifting into their former positions.
All patients are told this, and given a custom aligner for their mouths but very few actually follow through and wear it. And, over time many patients are disappointed to find their teeth shifting again.
Invisalign
Invisalign aligners are one of our most popular options for straightening teeth especially among adults. Invisalign are aligners that fit over the front of your teeth. They have been crafted from a special kind of plastic that makes them virtually invisible.
Patients really enjoy them because they must be removed for eating and drinking. Not only does it make eating and drinking more enjoyable, but it also makes cleaning your teeth (and your aligners) that much easier.
Your dentist will dispense a few boxes of aligners and you will switch to a new set every second week. Each set of aligners marks new positions for your teeth to shift into.
Invisalign are most suitable for older patients who are disciplined enough to wear them for a minimum of 22 hours a day. They also need to be kept very clean because not following the care instructions can make them more noticeable or affect their ability to straighten your teeth.
Compared to wearing traditional braces, Invisalign is lower maintenance teeth straightening option. You can expect fewer visits to your dentist as the aligners do not need to be adjusted like traditional braces.
Still have questions about teeth straightening options? It's time to speak to a professional. Please contact us for an appointment: (02) 9159 6237.