Posted on
January 17, 2020
There's no getting away from the fact that cosmetic dental procedures such as teeth whitening in Bali are considerably cheaper than the same treatment here in Australia. In fact, they can be as much as 60-70% less, depending upon where you go.
Even when factoring in return flights to and from Bali, it can still represent quite a saving. Throw in plenty of sun, sand and sea and it's no wonder that around 15,000 people travel to far-flung destinations every year to seek out medical/dental treatment.
However, before you book the first available flight out of Sydney, there are some important points you should consider first. Let's take a closer look…
Be aware that there may be different standards
Here in Australia, dental procedures – including teeth whitening treatment – and operating standards, are all heavily regulated. Dental procedures, for example, are highly regulated by the Dental Board of Australia and along with the Australian Health Practitioner Regulation Agency (AHPRA), ensure the very best standards of infection control and cleanliness. Bleaching agents contained within products are also highly regulated by both the Australian Competition and Consumer Commission (ACCC) and the Therapeutic Good Administration (TGA) so they remain safe for use in dental practices across the country.
Ultimately, when people seek out teeth whitening treatment here in Australia, then provided they choose an experienced dentist they should get total peace of mind.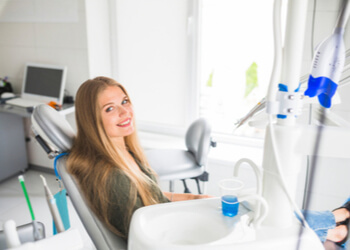 Conversely, for those travelling abroad to places like Bali for cosmetic teeth whitening, there is no guarantee that those standards are the same – and while both treatments and operating standards of individual clinics may fall within the guidelines set by individual countries, those guidelines may not always be as stringent as those adhered to back home.
As such, patients may be at risk from exposure to unknown pathogens spread via contaminated instruments as well as the potential risk of infection.
Bleaching agents used abroad may cause increased tooth sensitivity
It's possible that teeth whitening treatments in places like Bali may in some cases contain a significantly higher level of concentrated bleaching agents than those permitted in Australia.
While there is a good chance that higher levels of hydrogen and carbamide peroxide can cause slight tooth sensitivity, dangerously high levels (those more than 40% – 50%) may also cause permanent tooth damage when in the wrong hands.
Cost is always going to be a large motivating factor that causes people to strongly consider teeth whitening in Bali. However, while the upfront treatment prices are usually transparent, it's important to know there are going to be numerous other costs which you will need to factor in…
Costs like the price of a hotel – You need somewhere to stay right? The cost of food for the duration of your stay and of course, the costs of getting there and back.
You could say…
Well, I was taking a vacation ιn Bali anyway, so that really doesn't count"
but look at it this way…
The fact that you are undergoing a dental treatment whilst on vacation means that if complications did arise from your teeth whitening exploits in Bali, it's highly unlikely that you would be covered by a standard travel insurance policy.  As a result, you would also need to factor in the cost of specialist medical/dental insurance.
On the contrary, seek out chair-side teeth whitening here in Sydney to enhance your smile and you have none of these costs. So while cosmetic dental whitening may at first appear to be cheaper when you travel to Bali, it's important to be truthful about all the costs involved.
Teeth whitening in Bali – They might not know your dental history
Did you know that not everyone is a candidate for chair-side teeth whitening treatment? It could be that you have uncontrollable diabetes, numerous dental restorations, severe gum disease or extremely sensitive teeth. In these situations, we wouldn't recommend a cosmetic teeth whitening procedure.
Alternatively, you may have corresponded briefly with your chosen cosmetic dentist in Bali, but they might not be required by law to examine your mouth or check your medical history before undergoing treatment.
This means that in addition to a brighter whiter smile, you could easily develop complications several days, weeks, or months down the line.
Moreover, if something does go wrong when undergoing teeth whitening abroad, you need to consider what recourse (if any) you have. If the results weren't as you expected or you develop complications, then you may need to pay out for additional treatment.
Affordable teeth whitening at Infinity Dental Care
At Infinity Dental Care we understand that many dental treatments can be costly here in Australia and this is why we strive to make treatments affordable to all. We aim to keep our prices both competitive and low. Patients can choose to spend just $350 on take-home teeth whitening treatment (both upper and lower trays) and receive a free teeth whitening tube for life (regulations apply).
Also, there are other ways to offset the cost of teeth whitening treatment in Bali when you opt for treatment back home – such as checking your 'extras' cover on your medical insurance. While Medicare doesn't cover cosmetic dental procedures, contact your current provider to see what insurance they provide. More often than not, there will be some type of coverage available.
Final thoughts
Before being swayed by the costs of cheap teeth whitening in Bali, it's well worth looking at the risks involved. Weigh up the pros and cons of the treatment both in Bali and back here in Australia and make a decision based on this.
If you'd like to achieve a beautiful smile at an affordable price, the team at Infinity Dental Care can assist. Call us on (02) 9159 6237 and book an appointment.