Time to Smile – Patient Care
Here at Infinity Dental Care in Winston Hills Dr Jack likes to create beautiful smiles…  Over the next few months we will be sharing some of our patients cosmetic and comprehensive dental results with you. We hope you like seeing and reading about these cases. If you have any questions or if you are thinking of a smile makeover contact the Infinity Dental Care team.
Time to Smile – Patient Care Case One:
Recently we helped this lovely lady, she has allowed us to share her story.
Mrs Fabien wanted her smile back, she wanted to smile without covering her mouth with her hand. She was sick of having brown teeth and getting food stuck in between her teeth, she wanted her smile to look good.
Firstly, we spent time designing the perfect smile, we showed Mrs Fabien how her teeth would look and what shape and colour they would be. Once she was happy with the design we cleaned all her teeth, repaired holes with white fillings and placed composite veneers on the front teeth. The new teeth are so smooth, and white.
Mrs. Fabien is now able to smile again with confidence.
A Life Changing Experience!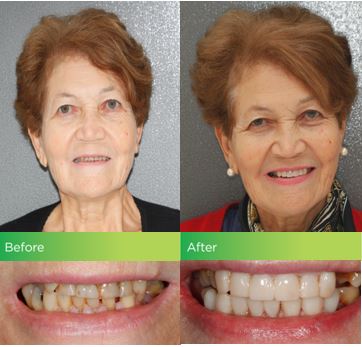 Of course Individual results may vary, talk to Dr. Jack about your options.  Make an appointment on 0298389111 or book online or call into see the Infinity Dental Care team at Winston Hills Mall, just behind Terry White Chemist.