Along with brushing your teeth twice a day, flossing is one of your defence mechanisms against tooth decay. But could a water flosser be more effective than regular flossing? Water flossers or Waterpiks can make the process of caring for your oral hygiene simpler and faster. Let's take a look at the pros and cons of water floss vs regular floss.
Why Flossing Matters?
Flossing your teeth adds time to your oral care – it takes longer than brushing and some patients tend to neglect this very important component of oral health. But flossing is essential because your toothbrush cannot get into the small spaces between your teeth or get below the gum line where plaque can accumulate.
A build-up of plaque can lead to tooth decay, gum disease and even tooth loss if it is not managed properly. Having gum disease is not only a risk to your dental health but it also has repercussions on your heart health. There is a strong association between gum disease and adverse cardiovascular health and flossing twice a day benefits your overall health and wellbeing.
What Is A Water Flosser?
A water flosser makes use of jets of water to clean the spaces between your teeth and under your gum line.
How To Use A Waterpik?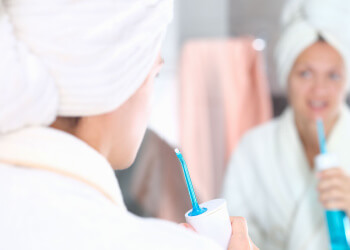 Before beginning, make sure the water tank on your flosser is full and you can see what you are doing.
While you might want to start using the Waterpik in front of a mirror, once you get better at the technique you may decide to move into the shower.
Begin on one side of your mouth and work your way around your jaw systematically, cleaning around the sides and top of each of your teeth. Make sure you clean the front and backside of each tooth.
Hold the Waterpik in line with your teeth and move the jets of water around the perimeter of your tooth.
Water Floss Vs Regular Floss: The Pros
The Pros: A Water Flosser Is Easier On Your Gums
If you don't know the proper technique, regular flossing can cause irritation to your gums, resulting in some bleeding if you aren't doing it correctly. Because water flossers use water they are kinder to your gums and do not cause irritation.
The Pros: Care For Your Dental Restorations And Orthodontics
If you have already lost a tooth due to decay you may have a dental restoration like a fixed bridge or dental implant. This makes it even more important that you care for your teeth as well as possible. Using a water flosser gives you peace of mind that you are cleaning all the small spaces where plaque can collect, and reduces your chance of tooth decay and gum disease.
Patients with orthodontic braces are faced with a more challenging situation than people who don't have them. The presence of braces means there are even more tiny spaces for plaque to accumulate, so it's essential that they are cleaned properly. But wearing the braces makes this a challenge. Wearing braces also makes it easier for food and debris to get trapped in between your brackets and wires, which need to be cleaned away for optimal oral health. It is very difficult to do regular flossing when you wear braces, and a water flosser makes this process quicker and easier.
The Pros: Care For Your Teeth Even If You Have A Condition That Affects Your Dexterity
Some people have conditions that make moving their hands and fingers more difficult so regular flossing can be painful. If you have carpal tunnel syndrome, Parkinson's disease, arthritis or any condition that affects the mobility of your hands, you may feel inclined to avoid flossing, but a water flosser can ensure you stay on top of your oral hygiene.
Water Floss Vs Regular Floss: The Cons
The Cons: Water Flossers Are More Expensive To Buy
With convenience comes a higher price tag and your handy Waterpik is no different. While string floss certainly isn't a cheap investment, water flossers cost more to buy.
The Cons: A Water Flosser Can Make A Mess
Because they use jets of water, Waterpiks can make a mess and need to be used over a basin or in the shower. While they do take some getting used to, once you understand how to use it, a Waterpik is an effective way to manage your plaque levels.
Water Floss Vs Regular Floss: What's The Best Option For You?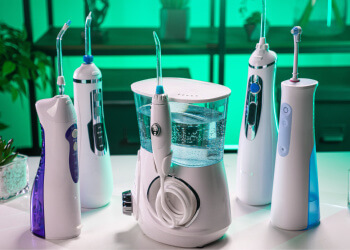 Everyone is different and has personal preferences and flossing is no different.
If you struggle to use strong floss or find that your technique is not adequate to manage your plaque levels, then using a water flosser could make a positive difference to your dental hygiene.
If you have any doubts about flossing, ask your dentist for help with correcting your technique.
Manual And Water Flossing Can Be Done Together
Some patients feel they have more peace of mind using string floss and water floss. Using dental floss can help to loosen stubborn plaque, which can be washed away easily afterwards with a Waterpik.
Should You Floss Before Or After Brushing?
The good news is that it actually doesn't matter what order you decide to do it in. Flossing before or after brushing benefits your oral health. The most important fact to remember is that you should floss every time you brush. If you wear orthodontic braces, using a Waterpik after each meal can rinse trapped food and debris from your braces and give you a cleaner mouth.
If you have more questions or concerns about the benefits of water floss vs regular floss, it's best to discuss them with your dentist. Please contact us for a convenient appointment as soon as possible: (02) 9159 6237. 
References
Water Flossing vs. Traditional Flossing
https://www.colgate.com/en-us/oral-health/brushing-and-flossing/water-flossing-vs-traditional-flossing#
Waterpik vs. Flossing: Pros and Cons
https://www.healthline.com/health/dental-and-oral-health/waterpik-vs-flossing