Posted on
January 21, 2022
What is a dental implant? In this post, we'll tell you everything you need to know about dental implants, so take a seat and enjoy the read! 
Dental implants are an excellent solution if you're looking to replace damaged or missing teeth. They closely resemble natural teeth, and unlike dentures, you don't have to remove them at night. Implants allow you to eat whatever foods you want and are brushed just like natural teeth. To the untrained eye, they look just like the teeth you were born with. It's hardly surprising that they are considered the gold standard of tooth replacement. Schedule a free consultation with your dentist to discuss everything you need. 
So, what is a dental implant, exactly?
Dental implants are metal posts or screws surgically placed into the jawbone beneath the gums. Once in position, they allow a dentist to attach replacement teeth to them. 
Implants are incredibly versatile because a dentist can use them in many ways: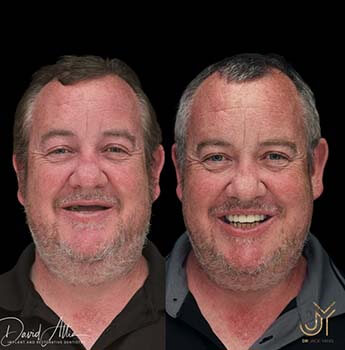 One dental implant topped with a dental crown replaces a single missing tooth

A dental bridge supported at each end with a dental implant can close a gap in the smile where several teeth are missing

All-on-4

dental implants

can replace all of the teeth in the upper or lower arch in a single day

Alternatively, 4 to 6

dental implants

can be used to retain a removable denture and stop it from moving
As you can see, there is a dental implant solution for all scenarios. Unfortunately, they aren't suitable for everyone, and we'll discuss why in the article. But first, let's look at why you should replace a missing tooth or teeth. 
Why bother to replace a missing tooth?
It's easy to think that a missing tooth won't cause you any problems, especially if the gap isn't visible, but you could be putting your oral and overall health at risk. Missing teeth can trigger a chain reaction of movement, leading to misaligned teeth and negatively affecting your bite function. 
So now you know what a dental implant is, how can you find out if it's a suitable treatment for you? 
Attend an initial consultation
The best way to answer this question is to attend an initial free consultation at your local dental clinic. During this appointment, the dentist will take x-rays, and CT scans on the area of the mouth to receive a dental implant. These x-rays will determine if there is sufficient room for a dental implant and if the bone is strong enough to support it. 
Your dentist will discuss your medical history to assess that you are physically able to handle dental implant surgery and don't have any allergies to certain medications. Assuming all looks well, the dentist will discuss the cost and schedule a date for the surgery. 
What makes a person a good candidate for dental implants?
Generally, most people are suitable for implants, provided their jaw has fully developed. However, there are a few characteristics that a suitable candidate should possess. 
Healthy mouth 
Like natural teeth, dental implants rely on gum tissue and jawbone to hold them in place. If a person has gum disease, it doesn't mean they can't go ahead with dental implant surgery, but the problem should be treated first. Infection and gum disease are the leading causes of implant failure both in the early stages of the implant procedure and in weeks, months, and even years after dental implant surgery. 
Strong jawbone
In addition to healthy gums, a patient needs to have dense, healthy bone. Unfortunately, if the teeth have been missing for a while or a person has been wearing dentures, the jaw is likely to have shrunk due to bone loss. 
In most cases, the dentist can rectify the situation with the help of a bone graft to regenerate the growth of new bone, enabling the patient to have dental implant surgery later. Naturally, this will add additional cost and time to the overall length of the dental implant procedure. 
Commitment to good oral health
Dental implants are cared for in the same way as natural teeth with daily brushing and flossing and regular dental check-ups. If a patient fails to follow the post-surgery instructions and neglects their oral hygiene, they could develop gum disease, which may impact the implant, causing the implant to fail. 
What happens during dental implant surgery?
Many patients worry about dental implant surgery, but really, there is no need.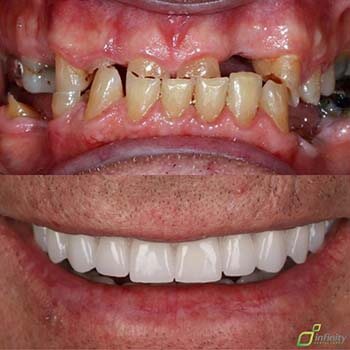 Here at Infinity Dental Care, we utilise state-of-the-art equipment and the latest 3D technology to provide digital dental implants for our patients. 
Our highly-experienced implant dentist makes a tiny incision in the gums and places a surgical computer guide over the teeth to prevent damage to the surrounding teeth or nerves. A small hole is drilled into which the implant is placed, and that's it. A single straightforward implant can be inserted deep into the jawbone in less than 20 minutes.
Not only is digital guided implant surgery more accurate, but because there are no sutures, patients typically heal faster. 
What happens next?
Following dental implant surgery, the patient enters a recovery and healing stage. During this time, the gums will heal, and the titanium implant posts will integrate with the jawbone in a natural process known as osseointegration. Once this process has occurred, the dental implants become a permanent fixture in the mouth. Once the dentist is satisfied that the process, known as osseointegration, has occurred successfully, all that's left is to complete the restoration by placing a dental implant, bridge or denture over the implant(s). 
Hopefully, we've answered your question  "what is a dental implant?" but perhaps you're wondering about the benefits of dental implants. 
The most significant benefit of implants is that they halt bone loss and help retain the facial structures, making a person look younger than their years. Now that is a confidence boost! If that's not enough, here are a few more benefits to consider. 
Are you ready to start your dental implants journey?
It's never too late to replace missing teeth and restore your smile's bite function. Why not take the first step to a beautiful new smile by calling us on (02) 9159 6237 to schedule a free consultation near you. We provide various payment options and finance plans to help you achieve the smile you want.
Note: Any surgical or invasive procedure carries risks. Before proceeding, you should seek a second opinion from an appropriately qualified health practitioner.
References
Click4Teeth – The Problems Caused By Missing Teeth And how Dental Implants Can Help
https://www.click4teeth.com/feature-articles/the-problems-caused-by-missing-teeth-and-how-dental-implants-can-help/
National Library Of Medicine – The Importance Of A Thorough Medical And Pharmacological History Before Dental Implant Placement
https://pubmed.ncbi.nlm.nih.gov/22924366/
NCBI – Bone Grafts In Dentistry
https://www.ncbi.nlm.nih.gov/pmc/articles/PMC3722694/
National Library of Medicine – The Accuracy Of Single-Tooth Implants Placed Using Fully Digital-Guided Surgery and Freehand Implant Surgery
https://pubmed.ncbi.nlm.nih.gov/31241782/
Click4Teeth – 5 Ways That Dental Implants Can Help Increase Confidence
https://www.click4teeth.com/feature-articles/five-ways-that-dental-implants-can-help-increase-confidence/