Posted on
February 28, 2022
For many people, flossing sessions always conclude with the same question, "Why do my gums bleed when I floss?" 
Flossing often leads to the bleeding of the soft gum tissue. Unfortunately, most individuals consider this a sign of damage to their oral health and refuse to continue the procedure. 
However, several issues can cause bleeding while flossing. Often, bleeding indicates bacteria buildup around a poorly restored filling or crown, which leads to gum tissue irritation. That said, bleeding may also be a sign of improper flossing techniques or tartar build-up on your teeth. 
If you are wondering, "Why do my gums bleed when I floss?" this guide will inform you of the different causes that can potentially be the reason for your bleeding gums. However, as oral health cases can vary from individual to individual, it is recommended to seek professional advice from a dental health practitioner to discover the root cause of your problem. 
So if you're ready to find out the probable causes of bleeding gums, continue reading! 
Bleeding gums can be a sign of periodontal disease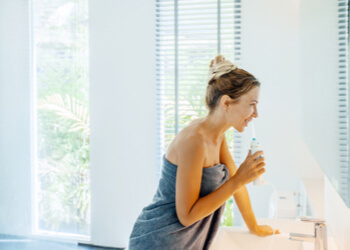 The gums are tissues that wrap around the jawbone and the teeth' roots. If you have healthy gums, the covering would be wrapped tightly around the teeth to create a seal-like structure that prevents the accumulation of bacteria. Healthy gums also appear pink in colour, and they usually do not bleed after brushing or flossing. 
Unfortunately, if your gums do end up slightly bleeding after a brushing or flossing session, there could be many reasons to explain this occurrence. One of the most prevalent causes is periodontal disease.  
These diseases include gingivitis and periodontitis. Gingivitis occurs when the bacteria from food intake converts into plaque and accumulates on your teeth. This disease is quite common in children and adults alike. When this build-up happens, the plaque should be removed on a routine basis to decrease the likelihood of decay and further damage. 
In the unfortunate case that the plaque is not removed, plaque will harden into tartar. This can be difficult to remove and as a result, is more damaging for your oral health. 
Essentially, the accumulation of bacteria, plaque, or tartar on your gum line can irritate the gums. In addition, the build-up can also cause inflammation. One major sign of tartar build-up is the fading of the healthy pink colour and the unfastening of gums from the teeth line. When this happens, any attempts to brush or floss the teeth can result in bleeding, swollen and inflamed gums. 
On the other hand, periodontitis is advanced gum disease and is caused when gingivitis is left untreated. This disease can cause numerous problems for your oral health, including increased gum sensitivity, gum recession, and gradual tooth loss. 
Improper flossing 
Practising improper flossing or brushing techniques can also cause the gums to bleed. That said, flossing is an integral component of your oral health routine. This is because brushing is not enough to eliminate plaque buildup. 
Therefore, flossing can help you reach tight spaces. Whether you are using traditional floss or water flossers in your oral health routine, you can eliminate the plaque build-up by allowing the floss to target the area between the teeth and below the gums. In addition, by flossing regularly, you can get rid of excess plaque before it hardens into tartar. 
However, if you are using water flossers or any other type of floss for the first time, you may experience some light bleeding. This bleeding should, however, only last for a few minutes. If your gums are bleeding due to regular flossing, the bleeding will stop after a few days of routine continuation. 
In the unfortunate situation that you experience heavy bleeding, or if the bleeding fails to stop even after a few days of routine flossing, it's possible that your flossing technique isn't accurate. Likewise, bleeding gums can also indicate a fault in your flossing routine or procedure. 
Irregular flossing
Irregular flossing can also contribute to your gums bleeding on the occasion that you do floss. That's why experts recommend doing it no more than at least once a day. You can create a brushing and flossing routine that works for you. However, brushing after a meal and flossing using water flossers before going to sleep is ideal. 
Harsh flossing 
Hard or harsh flossing can also cause bleeding. For example, your gums may bleed if you floss by putting too much pressure.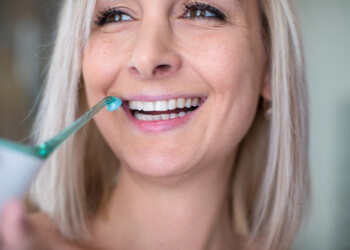 Therefore, it is recommended to keep a gentle hand to ensure your gum health does not deteriorate. 
If you are unsure about the proper applied pressure for flossing, you can use water flossers. Water flossers allow you to get rid of the plaque, bacteria, and other food particles confined in the tight spaces between your teeth. Using water flossers is convenient, but it is also a safer and less rigorous option.
Flossing requires a strategic technique. Whether you are using water flossers or string floss, make sure to gently slide the floss back and forth to reach the confined spaces between the teeth. Following this, move the floss below the gum region by pressing it up against the tooth and sliding it up and down. Make sure you are gentle throughout the process and avoid impulsive or heavy-handed flossing. 
Wrapping up
Several reasons might cause gums to bleed when you floss, and some are worse than others. So, if you regularly can relate to this, why not schedule an appointment with Infinity Dental Care to find out the answer to "why do my gums bleed when I floss?" 
Note: Any surgical or invasive procedure carries risks. Before proceeding, you should seek a second opinion from an appropriately qualified health practitioner. 
References
Web MD – Bleeding Gums and Other Conditions 
https://www.webmd.com/oral-health/bleeding-gums-other-conditions#:~:text=If%20you%20have%20periodontitis%2C%20your,may%20get%20loose%20or%20separate 
Colgate.com – Can You Remove Tartar At Home
https://www.colgate.com/en-za/oral-health/threats-to-dental-health/can-you-remove-tartar-at-home 
Mayo Clinic – What Is Periodontitis?
https://www.mayoclinic.org/diseases-conditions/periodontitis/symptoms-causes/syc-20354473 
Healthline – Is It Best To Floss Before Or After Cleaning Your Teeth
https://www.healthline.com/health/dental-and-oral-health/floss-before-or-after-brushing