Posted on
September 30, 2021
Brushing and flossing twice a day gives you the best defense against tooth decay, but that's only when you do it properly, and for the minimum recommended period of two minutes per session. Can an electric toothbrush do a better job? One of the most important electric toothbrush uses is keeping your teeth free of plaque when you are in a hurry or a bit distracted. Let's take a closer look at the oral benefits of using electric toothbrushes to keep your teeth clean. 
Electric Toothbrush Uses: What Are The Benefits?
Clean Your Teeth Thoroughly
The purpose of brushing twice a day is to remove plaque, debris and bacteria from the surface of your teeth. And that's no easy feat, particularly when you consider that plaque is a sticky film that clings to the surfaces of the structures in the mouth.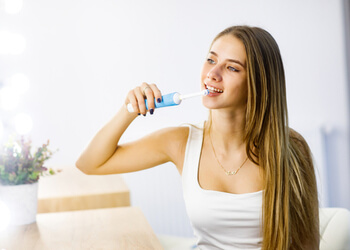 In order to do a good job at brushing your teeth, you need to
Brush for at least two minutes per session

Ensure you brush all the surfaces of each tooth

Ensure you are holding and angling the toothbrush correctly
If you do not set a timer when you brush and are in a hurry or distracted first thing in the morning, there's a good chance you could miss a spot or two. If you skip a tooth surface or hold your toothbrush incorrectly, the bad news is that there isn't anyone else around to point out your mistake. 
An electric toothbrush is designed to do a good job every time because it is not subject to human error. Most electric toothbrushes have timers built-in to alert the user that they have brushed for long enough.
Hold Your Brush Comfortably
Anyone who wants to brush their teeth correctly needs to be able to hold and manoeuvre the brush comfortably. If you have a condition like Parkinson's disease, arthritis or carpal tunnel syndrome, this may not be possible. Patients who have conditions that make it painful or uncomfortable to hold onto their toothbrush handles may find that their dental hygiene is suffering as a result. 
One of the most popular electric toothbrush uses is for a comfortable and wide handle that makes gripping much easier. The fact that the brushes rotate on their own makes using the toothbrush properly much easier, allowing technology to do most of the work for you. Buttons, switches and settings are easily accessible so all you have to do is to hold the toothbrush in position while the brush keeps your mouth clean. By using electric toothbrushes, patients with limited mobility can ensure they do a good job at keeping their mouths plaque-free. 
It's So Easy … A Child Can Do It
Parents have the tough job of helping their children to learn the right brushing technique. They also have the added pressure of trying to keep the experience as positive and stress-free as possible. And that's not easy when the threat of tooth decay makes the occasion fairly serious.
Electric toothbrushes are designed with younger patients in mind. Not only do the rotating bristles compensate for lack of technique as children get to grips with the demands of brushing their teeth, but they also have built-in timers to help kids do it right.
Small bristle heads are sized just right for kids' mouths and teeth, so parents can rest assured that the toothbrush removes as much plaque as possible while the kids have fun in the process.
Get The Pressure Just Right
If you don't apply enough pressure, your toothbrush may not do an effective job at plaque removal. If you apply too much pressure, your technique could do damage to your gums by brushing away at your gum tissue., or to your teeth by damaging your dental enamel. A good electric toothbrush will have a pressure sensor – and a light will come on to alert you to the fact that you are brushing too hard.
Electric toothbrushes have adjustable pressure settings to help you find the happy medium that keeps your mouth clean and your gums strong and healthy. 
Electric Toothbrush Uses That Might Surprise You
Clean And Massage Your Face
Yes, top of the line electric toothbrushes now do more than just keeping your teeth clean. Some models are available with interchangeable heads that allow you to wash and massage your face.
Keep Gum Disease At Bay
The latest studies suggest that electric toothbrushes do a better job at plaque removal than manual toothbrushes.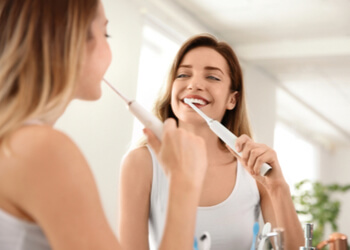 Removing plaque well makes you less susceptible to gum disease, tooth decay and tooth loss.
If you are a patient who has had problems with gum disease in the past, it's essential that you improve your dental hygiene to keep periodontitis under control. An electric toothbrush might be your best defense if gum disease is a problem for your oral health. 
An electric toothbrush with oscillating heads or heads that rotate in different directions appears to do a superior job at plaque removal, especially when compared with a manual toothbrush. 
But What About The Cost Of Technology?
Years ago you could argue that the cost of an electric toothbrush was an inhibiting factor but as technology has improved and the market has become more competitive, the average prices have come down, making electric toothbrushes more affordable for the average person.
A more helpful cost comparison is not an electric vs manual toothbrush but rather the cost of an electric toothbrush vs the cost of dental decay and tooth replacement. On these terms, an electric brush is a much better long term investment for your dental health.
To find out more about electric toothbrush uses or how an electric brush could upgrade your oral care routine, please contact us for an appointment: (02) 9159 6237.