If you're using a manual toothbrush, your dentist will advise you to change it every three months. But if you've invested in an electric toothbrush, you expect it to last for longer. Let's consider how long does electric toothbrush last, and when you will need an upgrade.
The Importance Of Changing Your Toothbrush
When you're using a manual toothbrush, the biggest reason you need to get a new one is that the bristles wear down with use. This means, over time, your toothbrush becomes less effective at removing plaque. This can lead to a buildup of plaque that can contribute to tooth decay and gum disease.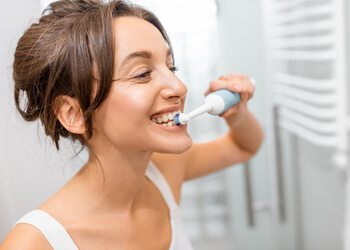 For the majority of people who brush with normal pressure, the average toothbrush can be expected to last for around three months. And electric toothbrushes are no different: you will need to change the head for a new one every three months too.
If you find that you need to change your toothbrush head more frequently than every three months, it's usually a sign that you are brushing too hard and you can ease up a bit. The advantage of using an electric brush is that most of them have built-in pressure sensors that will alert you when you apply too much pressure. They also have built-in timers that help you to regulate your brush time, ensuring you get those two mandatory minutes in at every clean.
You should also get a new toothbrush head after an illness or infection because the bacteria that caused the infection are likely to end up on your brush head.
How Long Does Electric Toothbrush Last And When Do You Need A New One?
The good news is that buying electric toothbrushes is a good investment. Manufacturers advise that electric toothbrushes need to be replaced every three to five years. Most manufacturers offer a guarantee and allow you to return it if you're not happy with the results, but this is dependent on the company.
How To Extend The Lifespan Of An Electric Toothbrush? 
Fortunately, there are steps you can take to extend the lifespan of electric toothbrushes:
Watch how you charge
Make sure you remove an electric toothbrush from its charger when the battery is full. Leaving it to charge when the battery has reached 100% causes the battery to deteriorate, and will necessitate a replacement much faster. You will notice that as your toothbrush gets older the battery doesn't last as long.
Cleaning your electric toothbrush
Keeping electric toothbrushes clean and disinfected is an important step to prevent the accumulation of bacteria. Always make sure you remove all the toothpaste from the bristles after each use. Use warm water to melt hardened toothpaste. You may want to disinfect the head on a weekly basis. You can do this by submerging it in a solution of water and hydrogen peroxide for half an hour or in some antiseptic mouthwash. Make sure you rinse the toothbrush carefully afterwards. Always allow your toothbrush to air dry naturally and do not store it wet in a container as this contributes to breeding bacteria.
Store your electric toothbrush away from your toilet and keep the toilet seat down, especially when flushing. Flushing the toilet causes airborne bacteria to be spread around the bathroom, and they can settle on the toothbrush head if it is nearby.
Sharing your toothbrush exposes you to the bacteria in other people's mouths. You can use a different head if someone else has used yours but never share the same toothbrush head.
Keep the rest of your toothbrush clean
In addition to cleaning and disinfecting your toothbrush head, you should clean the base on a regular basis. Take the toothbrush apart and clean the individual components, removing any dirt, debris and toothpaste. Three to five years is a long time for dirt to accumulate. A solution of water and hydrogen peroxide applied sparingly with a clean cloth can remove most of the debris. 
How Long Does Electric Toothbrush Last: Are They Worth It?
Investing in an electric brush is an investment in your future dental health, it's not just some marketing hype geared at getting you to spend more on a piece of technology. In the case of electric toothbrush technology, it actually works really effectively.
A review of studies comparing manual and electric toothbrushes found the electric versions to be more effective at plaque removal and gum disease management. According to the review, it is worth spending a bit more on a toothbrush for the benefits it affords your oral health. Participants who used an electric brush were found to have: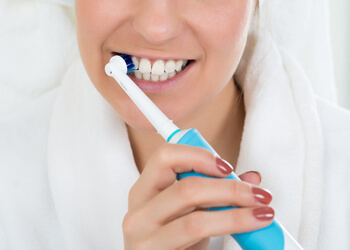 An 11% decrease in the amount of plaque after one month of use

A 21% decrease in the amount of plaque after three months of use

A 6% reduction in gingivitis after one month of use

An 11% reduction in gingivitis after three months of use
Additionally, patients who wear orthodontics have more complex dental hygiene needs that are compounded by wearing orthodontic braces. Using an electric toothbrush makes cleaning your teeth easier and more effective.
The research indicates that using an oscillating brush can remove more plaque than using a brush that just vibrates. And the technology is getting better as the space becomes more competitive, making electric toothbrushes well worth the investment over the short and long term.
Interestingly, another study has found that people who use electric brushes tend to be more focused and concentrate better when brushing. If you're still sitting on the fence and holding onto your manual toothbrush, going electric could be worth a try.
For more tips on how long does electric toothbrush last or how one could benefit your oral hygiene, it's best to speak to a professional: (02) 9159 6237. 
References
Is It Better to Use an Electric or a Manual Toothbrush?
https://www.healthline.com/health/dental-and-oral-health/electric-toothbrush-vs-manual
Dental hygienists' evaluation of the usability research study of the Colgate ProClinical A1500 electric toothbrush
https://pubmed.ncbi.nlm.nih.gov/26054186/
Powered/electric toothbrushes compared to manual toothbrushes for maintaining oral health
https://www.cochrane.org/CD002281/ORAL_poweredelectric-toothbrushes-compared-to-manual-toothbrushes-for-maintaining-oral-health
When To Switch To A New Toothbrush
https://www.colgate.com.au/oral-health/brushing-and-flossing/time-to-switch-to-a-new-toothbrush-1213