Posted on
November 30, 2019
Twice daily brushing and flossing, and visits to your dentist every six months provide the most effective strategy for how to prevent receding gums, but there are other factors that can lead to gum recession. Today we will take a look at how to maintain strong and healthy gums, and explore your treatment options in the event that you are experiencing gum recession.
What Is Gum Recession?
Receding gums occur when the gum tissue around your teeth starts to pull back, or is worn away. When this happens, a bigger surface area of your tooth is exposed and often the first sign of gum recession is teeth that appear longer or bigger than the others.
Eventually the roots of the tooth are exposed, leading to tooth sensitivity. The gap that opens up between your teeth and gum can also trap bacteria, leading to infections that can destroy the tissue and bone structures around your teeth.
Healthy gums fit closely around the crown of your teeth, and should not have any spaces or pockets between them and your teeth.
To the average person the early stages of gum recession might go unnoticed. The best way to stay on top of your gum health is to visit your dentist on a regular basis so that he or she can inspect the condition of your gums and ensure that all plaque is removed from your teeth.
What Causes Receding Gums?
There are different factors that can cause gums to recede. These include:
Poor dental hygiene
If the plaque on your teeth is not removed, it turns into tartar, a substance that can only be removed with your dentist's professional equipment.  Plaque and tartar build-up might begin on the surface of your teeth, but if left untreated, can go below your gum line and introduce bacteria. Plaque and tartar contain lots of bacteria that create an acidic breeding ground for more bacteria.
Genetic predisposition
Some people are just genetically predisposed to develop gum disease regardless of their level of dental hygiene.
Periodontal disease
Gum disease can destroy your gums and soft tissue, and then makes its way into the bones that anchor your teeth. It causes inflammation and infection.
Brushing too hard
Brushing too hard or using a brush with hard bristles can wear away at your gums, or cross an area called the gingival margin. If you are concerned that your brushing technique is not cleaning your teeth effectively, discuss this with your dentist.
Teeth grinding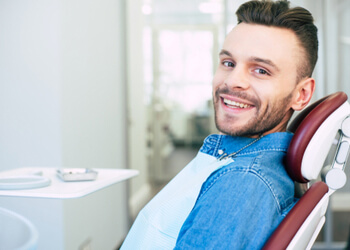 Clenching of the jaw and grinding of the teeth in sleep can put pressure on your gums, resulting in gum recession. Grinding your teeth can also cause your teeth to loosen directly, worsening pockets for bacteria.
Hormonal changes
The changes in female hormones during different life stages like pregnancy, menopause and puberty can make the gums sensitive and more susceptible to gum disease.
How Are Receding Gums Treated?
Planing and scaling
The first course of treatment for gum recession is usually a technique called root planing and scaling. With planing and scaling your dentist is able to remove deposits of plaque and tartar below your gum line, and in places that your toothbrush cannot reach.
Planing and scaling treatments can remove tartar from your tooth roots and straighten and smooth the roots out, so that they can re-attach to your teeth.
Pinhole rejuvenation treatment
Infinity Dental Care is pleased to offer our patients the revolutionary Pinhole Gum Rejuvenation treatment, which is minimally invasive. Our experienced dentists can stimulate the growth of new gum tissue in patients who have mild to moderate gum recession by making an hole in the gum and manipulating the gum tissue over the part of the tooth that has receded.
Unlike other techniques of gum grafting pinhole rejuvenation does not require incisions or stitches so pain, swelling and bleeding is really minimal.
Traditional gum grafts
By contrast, traditional gum graft surgery requires soft tissue grafting or donor tissue for rebuilding the gum line. The tissue is stitched into place until it integrates and heals fully. Because grafting and stitching is involved gum graft procedures do carry a higher degree of risk than pinhole rejuvenation.
Tips For Preventing Receding Gums
Your dentist is your best ally when it comes to gum health and preventing gum recession, but there are small steps you can take to protect yourself on a daily basis, or gum recession from getting worse.
Always floss
Flossing between your teeth and along your gum line can protect you against tartar build up.
Brush twice a day
Most people do not brush twice a day but you will be amazed at how quickly plaque builds up in your mouth. Make sure your first line of defence is effective through twice daily brushing and flossing.
Use a soft bristled toothbrush and the correct technique
Use a soft bristled brush and hold it at 45 degrees to your gum line. Make sure you brush the inside, outside and chewing surface of each tooth. Hold your toothbrush in a vertical position when brushing your front teeth.
Remember to brush for at least two minutes.
Eat a nutrient-rich diet with lots of fresh vegetables, and as little sugar as possible to promote gum health. Drink lots of water and minimise your intake of sugary beverages.
Do you need help with how to prevent receding gums? We'd love to help.
Infinity Dental Care is committed to offering our patients the latest advances in dental treatments. Please contact us for a convenient appointment: (02) 9159 6237.