Using a water flosser can improve your oral hygiene as it cleans the interdental spaces or spaces between your teeth and below your gum line that your toothbrush can't reach. Selecting water flosser tips best suited to your end goal is the most effective way to ensure that your Waterpik is working the way it should be. Today we're going to explain what your options are and how best to use them.
General Notes On Water Flosser Tips
You can use different Waterpik tips when you clean your teeth. There are standard tips available to clean between your teeth and even clean your tongue thoroughly. If you have a dental concern such as orthodontics, dental work or periodontal pockets, you may require a more specialised approach to boost your oral hygiene.
Using Toothbrush Tips For Water Flossers
If you've never used one before, toothbrush tips for water flossers are similar to electric toothbrushes.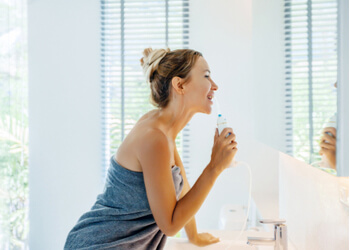 They enable you to brush your teeth, while jets of water flush the debris out of your mouth. 
Even though using water flossers does a more efficient job at cleaning your teeth, you still need to brush for a minimum of two minutes a day.
The tips for water flossers usually need replacing every three to six months, but if you notice signs of wear and tear and need to replace your Waterpik head sooner, it could be a sign you're brushing too hard.
Tips with bristles usually need replacing every three months, while the heads with solid tips can last for up to six months.
Using The Tongue Cleaner
You should clean your tongue every time you brush your teeth. A Waterpik's tongue cleaner is shaped like a spoon, and using it regularly can keep the bacteria that cause bad breath under control. You will start off by placing the tongue cleaner in the middle centre of your tongue, pulling it forward. The spoon-shaped cleaner will pull away at stubborn bacteria while the water jets will rinse it away, out of your mouth.
It's recommended that you begin with the lowest pressure setting and increase it as you get used to the sensation.
Classic Tip For Everyday Use
If you are looking to add oral irrigation to your dental hygiene routine and you don't have any special dental needs, a classic tip will probably suit you well. This is the standard water flosser tip that cleans in between your teeth and below your gum line, using jets of pressurised water, and it is gentle enough to use every day.
The classic tip is highly effective at removing plaque and keeping bacteria under control. These water flosser tips should be replaced every six months or at the first signs of wear and tear.
How to use it for the best results: Start at the back of your mouth, and move the water flosser along your gum line, holding it at a 90-degree angle. Make sure the tip isn't in contact with your gums, you should hold it a little further away.
Periodontal Tips For Periodontal Pockets
If you have had gum disease and periodontal pockets have formed on your gums, you need a deeper cleaning water flosser tip. Water flossers have been found to be highly effective at managing bacteria in periodontal pockets. In some studies, Waterpiks have been able to reduce the size of periodontal pockets in patients with gum disease. For patients with gum disease, a water flosser can be used with an antibacterial mouthwash for a cleaner rinse that gets rid of more bacteria.
How to use it for the best results: For periodontal pockets, it's recommended that you start off using the lowest pressure setting. When cleaning periodontal pockets you should hold your Waterpik at a 45-degree angle to the tooth you are cleaning.
Water Flosser Tips For Dental Work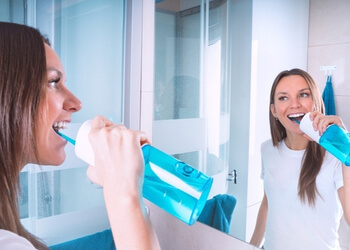 Patients who have dental restorations like fixed dental bridges and tooth implants may benefit from using a specialised flosser tip. These flosser tips are designed to remove plaque from very hard-to-reach areas, like those around dental implants and bridgework. If you have a tooth replacement due to tooth loss from dental decay, you'll understand the importance of plaque removal on a daily basis.
How to use it for the best results: You can position these water flosser tips on the tooth you are cleaning around so that they are in contact. As you brush, you can move the bristles along the tooth so that the water flows between each tooth.
Water Flosser Tips For Cleaning Orthodontics
Orthodontic tips are designed to work with orthodontic braces and are shaped differently, to fit into the unique gaps that wires and brackets create.
How to use it for the best results: use the tapered end of the Waterpik and move it along the gum line, making sure you clean the spaces between your braces and your teeth. It's really important to give each tooth individual attention.
Keeping Your Waterpik Clean
Just as you need to clean your toothbrush, your Waterpik should be cleaned regularly too. All you need to do is remove it from your device and rinse it. Then allow it to soak in a solution of hydrogen peroxide or vinegar and water for five to seven minutes. Make sure you rinse it again after soaking and allow it to air dry.
It is possible for people from the same household to use the same water flossers, you would just need to have separate heads for everyone, and store the tips separately for hygiene reasons.
For more water flosser tips or to find out how to improve your dental hygiene routine, it's best to speak to a professional. Please contact us for an appointment: (02) 9159 6237. 
References
Tips for Making Your Water Flosser Most Effective
https://yourdentalhealthresource.com/tips-for-making-your-water-flosser-most-effective/
Waterpik Water Flosser Tips Guide
https://www.waterpik.com.au/oral-health/buying-guide/water-flosser-tips-guide/ 
Selecting the right tip for a water flossing device
https://www.rdhmag.com/patient-care/article/16409736/selecting-the-right-tip-for-a-water-flossing-device